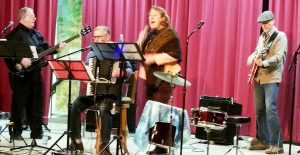 Being of Ukrainian ancestry and growing up on a farm near the community of Smoky Lake, Don Klym's musical inclination was very much to play Ukrainian traditional music. He began playing the accordion as a young boy, and later learned trumpet in the school band and keyboard in dance bands. Don's wife, Noreen, performs with him as percussionist and singer, where together they share the joy of music playing in a variety of venues in the region.
Now, Don and Noreen are accompanied by their musical friends. On electric guitar, Kyler Schogen, is a versatile excellent musician in his own right, who writes and produces music in a studio on his acreage. John Senetza, on bass guitar, played in a band with Don during university days. John has enhanced dance bands throughout the Edmonton area for over forty years.
Together, they are the SMOKY TONES.