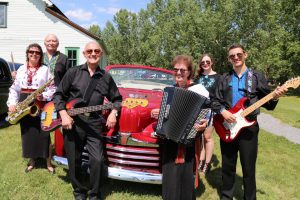 The Polka Ramblers have been providing music for your dancing and listening pleasure for almost 40 years. They have performed for various functions including the Vegreville Pysanka Festival, Edmonton Heritage Days, the Annual Ukrainian Village Music Fest, Ukrainian Canadian Cultural Showcase and numerous Weddings, Dances and Malankas over the years.
The band is made up of 3 generations – mother – Sylvia Kupka on Accordion & Vocals, daughter – Shelley Dolter – Saxophone, Violin and Vocals and Sylvia's Grandson – Travis on Guitar & Vocals. Rick Sliwkanich keeps the beat going on Drums and Panko Chrunik on Guitar, Vocals and Bass. For special occasions, Sylvia's Granddaughter – Shaelyn also joins in on Vocals.
The Polka Ramblers have recorded 4 CD's over the years including their newest CD, Generations of Music, featuring Sylvia's grandchildren! They play music for all occasions with a mix of Ukrainian, Country and Rock! They enjoy having the audience dancing and singing along as they perform!