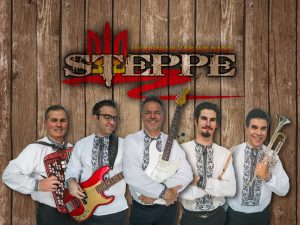 After debuting in 2014, it didn't take long for STEPPE to establish itself as one of the top Ukrainian bands in Western Canada. The key to the band's success in such a short period of time? Introducing audiences to Ukrainian music that isn't typically played by other bands. "We didn't want to sound like every other Ukrainian band in Canada," explains STEPPE's founder and lead vocalist, Peter Zmewsky. "We knew there was a ton of exciting, new Ukrainian dance music out there, and so we made it our goal to introduce as much of it as we could to Ukrainian-Canadian audiences."
Zmewsky, together with two other original band members, recruited local bayan (button accordion) player, Dmytro Rusnak, and reached out to Edmonton-based trumpet player extraordinare, John Dymianiw, to complete the band's instrumentation. "Dmytro and John are very accomplished musicians and singers in their own right, and when you have good singers in a band, you can do really cool things with vocal arrangements and harmonies," adds Zmewsky.
While still considered by many to be a "newer band", STEPPE is proud to say it has already performed at every major Ukrainian festival in Western Canada, including Calgary's Ukrainian Festival (twice), Vegreville Pysanka Festival (three times), Canada's National Ukrainian Festival in Dauphin, Manitoba (2017), Saskatoon's Vesna Festival (2018), Edmonton's UFest (2018), and just last summer, the band was invited to perform internationally at the North Dakota Ukrainian Festival in Belfield, North Dakota. When not performing at festivals, the band enjoys entertaining guests at wedding receptions, Malanka celebrations, community fundraisers and many other private functions in and around Alberta. Currently, the band is in the process of recording some of its music, and hopes to release a CD later this year.
STEPPE is Peter Zmewsky (guitar and vocals), Dmytro Rusnak (bayan, keyboards and vocals), John Dymianiw (trumpet, flugelhorn, percussion and vocals), Adrian Zmewsky (bass guitar), and David Skubleny (drums).