Historical Children's Program Day Camp 2020
August 24, 2020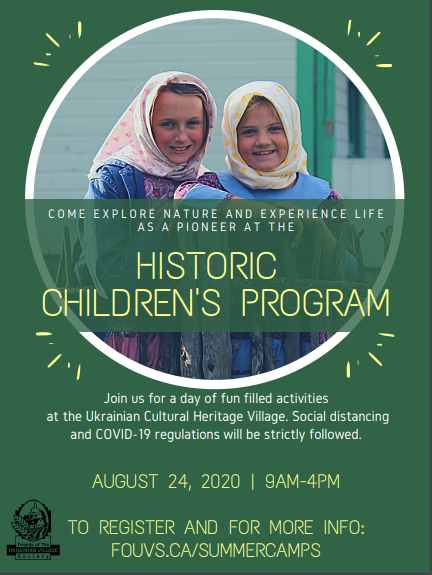 The Historic Children's Program is a one-day outdoor (weather permitted) camp, that will be filled with activities, games, crafts, and historical exploration to introduce children to the history of East Central Alberta and Ukrainian settlers to this area. The camp is intended for children ages 6-12. The camp has been designed to take place entirely on the non-historic side of our site (as historic buildings are hard to sanitize) and all activities are designed with social distancing in mind. We have increased sanitation at our site and we will be following AHS guidelines for hand washing and use of non-medical masks, in order to have a safe and enjoyable experience for everyone. Our day camp has been carefully designed to comply with AHS Day Camp Guidelines for 2020 to ensure that all children, families, and employees are as safe as possible.
Cost: $20 for Friends Members $25 for non-members
There is no transportation provided this year. Our camp runs from 9:00 am to 4:00 pm, however, drop off is between 8:30 am and 9:00 am and pick up is between 4:00 pm and 4:30 pm. The Ukrainian Cultural Heritage Village is closed to the public on Mondays, so parents will be required to leave site after signing in their child. Elk Island Park is located only 3 km away from UCHV, so parents may wish to visit the park while their child is at camp.
All activities have been chosen to prevent children congregating in close proximity and our craft supplies will already be safely put into "craft kits" for each child by our camp counsellors to discourage the surfaces and supplies being touched frequently. Games such as tag, hide and seek, and all singing will be prohibited due to increased proximity, heavy breathing, and excessive touching. However, we will be observing AHS's guidelines to safely plan other games, space out activities like dancing and crafts, and encourage safe play. Do not hesitate to ask for more details.
To register please fill out the application form and send it to [email protected]
You will receive a confirmation email with payment link the same day you register.
​For more information, please contact Ashley at [email protected]
Дуже дякую! Thank you very much!